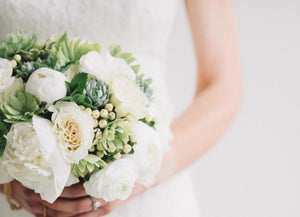 Weddings
When planning for the big day, there is so much to consider. Seeking out the right wedding flowers can be a challenge. We're here to help make your wedding flower fantasies a reality by creating bouquets and arrangements perfectly suited to your personality, style and taste. Our personal flower weddings (Bridal bouquet, bridesmaid bouquets corsages and boutonnières) are the perfect way to enhance your smaller gathering. For a larger wedding we offer full service flowers and setup. Please call us at (612) 822-2003 or email: chezbloom@gmail.com with details on your upcoming wedding!
Explore
Floral Challenges-COVID
Please order flowers in advance soon as possible as product shortages are here and delivery days and locations are limited. COVID-19 has created many challenges in the floral industry during 2020 and 2021 and will continue well into 2022. Product shortage due to the lack of available transportation, climate change, and the pandemic has placed the flower industry under a substantial level of stress. Flowers were unable to be planted in some areas of the World due to the inability of employees to do the work in the fields. The effect is limited products and quantities, reduced schedules of transportation and higher costs across all flowers and hard goods. Please be patient and understand that retail florists are doing their very best to offer the very best service and floral designs that we are currently able. We appreciate your business!